*** The videotaping or other video or audio recording of this production is strictly prohibited.***
Thank You
To Our Sponsor!
The Off Broadway Theatre Company proudly presents:
Dracula vs. Henry Botter
CREDITS
Executive Producers: Sandy Hubble Jensen & Eric R. Jensen
Producer: Jeff Driggs
Playwright: Logan Rogan
Script Additions: Eric R. Jensen
Director: Eric R. Jensen
Choreographer: Eric R. Jensen
Sound Effects: Rob Reins
Set Designers: Eric R. Jensen and Rob Reins
Costumers: Eric R. Jensen and Janice Jensen
Sound & Light Tech: Audrey Lord and Mitilda Black
Prop Designers: Eric R. Jensen and Rob Reins
Stage Manager: Erin Orr
Website: Nic Brown, Dan Gillette, and Sandy Jensen
Playbill: Nic Brown, Sandy Jensen, and Jeff Driggs
Poster & Photos: Nic Brown
2021 Laughing Stock Officers: Aaron Bellis, Austinn Jensen, and Eric R. Jensen
Laughing Stock Improvisers:  Eric Jensen, Russ Peacock, Clarence Strohn, Logan Rogan, Jesse Parent, Zach Reynolds, Aaron Bellis, Jason Unruh, Bryan Dayley, Parker Abegg, Chris Harvey, Dory Peacock, Austinn Jensen, Chance Le Prey, and Scott Kramer
Laughing Stock Techs: David Bellis and Amy Bensch
Box Office Staff and Volunteers : Sandy Hubble Jensen, Nola Camaliche, Megan Leonard, Thelma Rother, and Jeff Driggs
 Volunteer Coordinator: Megan Leonard 
 Front of House Leads: Ed Rother, Thelma Rother,  Wendy Gilbertson, and Jeff Driggs
Concession Volunteers: Megan Leonard, Lindsay Simons, Rachel Hunsaker, and Jonathon King
DIRECTOR'S NOTES
Eric Jensen: Director
This is the third time I've been in this production and the second time I've directed it. But this year there were so many great options for "fresh blood" (no pun intended) . . . (OK, really, the pun was intended) that we expanded the cast of characters to more students and more faculty members in the production. It has completely rejuvenated the show and made it an experience that is an absolute joy. This play is perhaps one of my favorites of all the "Dracula versus" shows we do. As I now have played Dracula for 27 years, it has become interesting to me to examine why people seem to like this character, and why this genre seems to have such an appeal. I think it's because Dracula is such a horrific and frightening literary character that to see him get his comeuppance is quite enjoyable. But the way he is played in the OBT version is that he has a much more humanistic element. He deals with the simple, everyday problems that we all face. There's humor in his day-to-day struggles, and we find him somewhat relatable . . . but in the end, of course, he is a horrific, bloodthirsty predator who needs to die. It's satisfying to an audience, but also a little part of us dies when he does. That is Halloween poetry at its finest.
Coming Soon!
November 5 – 27
Thank You
for your support of
The Off Broadway Theatre
Special Thanks to Utah County Zoo Arts and Parks (ZAP), the Utah Division of Arts and Museums, the Fang Family Foundation, Utah Community Credit Union (UCCU), and all the individual donors and friends who give through the Network for Good on Facebook Birthday Campaigns and the Amazon Smile program, as well as to the Draper Historic Theatre board. Because of you, the OBT continues to bring the gift of laughter in 2021!
CAST
Dracula – played by Eric R. Jensen
Henry Botter – played by Cameron Liddle
Heardirony Stranger – played by Jessica Duncan
Don Sneezly – played by Boston Smith
Severed-us Scape – played by Eduardo Alencar
Renfield Haggard – played by Stephen Chucay
Alfus Bumblebore – played by William Hunt
A.K. Lawlings – played by Tonya Huso ‬
Snako Mouthoff – played by Tyler Newton
Snako Mouthoff – played by Roman Southwick
Chow Bella Lee – played by Sasha Southwick
Professor McGonandull – played by Tanya Walton
Professor McGonandull – played by Nikki North
Professor Hellachik – played by Katie Whitely
Professor Hellachik – played by Aimee McPhie
Ne'ergud Jones – played by Sadie Wendels
Nevin Shortbottom – played by Robbie Easton
Looney Lovejoy – played by Paige Glasser
Sissy – played by Aurora Gibson 
Sissy – played by Kate Haymond 
Narce – played by Audrey Self
Narce – played by Kendra Jones
SCENES
ACT I
Sc. 1: The Slums
Sc. 2: The Great Hall
Sc. 3: Prof. Yula's Classroom
Sc. 4: Scape's Office
Sc. 5: The Great Hall

15-min Intermission
ACT II
Sc. 1:The Great Hall
Sc. 2: Henry's Bedroom
Sc. 3: The Broomsticks Field
Sc. 4: The Catacombs
Sc. 5: The Bell Tower
SONGS
ACT I
Henry Botter's Theme
I Won't Survive
ACT II
What Bliss We Miss
I'm Vlad
Now Playing!
Saturdays @ 10 PM in Draper
Eduardo Alencar as Severed-us Scape:
Born in Brazil, Eduardo is also known by his artist name Alenkedo (Allen-kee-doh). He's performed in many shows around the valley, including Chad in Disaster! The Musical  (Empress) Kerchak in Tarzan (South Valley Youth), and Fredrick and Sam in Pirates of Penzance. Eduardo has also performed as one of the twelve apostles in Savior of the World (Conference Center). Some of his specializations include doing voice overs and composing songs. Performing with the OBT is now one of his many dreams come true, helping deliver the gift of laughter to you. Find him on social media: Tiktok:@Koyoteeduardo Snapchat:@Coyoteeduardo Instagram:@Koyoteeduardo and Facebook:@Eduardo Alencar ***Spotify/ Music Ditributors:Alenkedo
Stephen Chucay as Renfield Haggard:
Stephen Chucay is excited to return to the stage with the Off Broadway Theatre. While a video conferencing engineer by day, he spends his nights as a filmmaker, singer, film aficionado, and father. Stephen supports the creative minds of local writers and musicians and has been in many original productions here in Utah, including Gaxagon Media's A Father's Day, and Titus Production's The Three Musketeers. He has loved rejoining the OBT and working with such a talented cast.
Jessica Duncan as Heardirony Stranger
Jessica is excited to perform for The Off Broadway Theatre again here in Draper. Her debut was in last year's Halloween show, Dracula vs. The Adamns Family. More recently she has performed in The Wicked Wizard of Ahhs and The Littlest Mermaid. She has additionally performed in numerous productions at the Draper Historic Theater, Scera Center for the Arts, Outdoor Scera Shell, and Lehi Arts Center. During the day, she teaches first grade at Granger Elementary in West Valley. She thanks her fellow cast and crew members for this opportunity and her family and friends for their continuous love and support. Enjoy the show!
Robbie Easton as Nevin Shortbottom: 
Robbie Easton is excited to perform as Nevin Shortbottom. Having recently moved from Kansas he doesn't have a lot of experience in Utah, so he is ecstatic that he was given this opportunity. Though Robbie might sound new to acting, he participated in many plays back in Kansas. Robbie can't wait to perform this show!
Aurora Gibson as Sissy:
Aurora is excited for their fifth play at the OBT. They've been acting for three years. Highlights include A Lad 'n His Magic Lamp and both of OBT's productions of Muffet's Christmas Carol! When not on the stage, they enjoy reading, drawing, being active outdoors, camping, and spending time with friends. They thank their friends and family, as well as all of you, for supporting the OBT!
Paige Glasser as Looney Lovejoy:
Paige Glasser is a senior theater major at Centre College in Danville, Kentucky. There, she has been a part of numerous shows and was an original member of the college's improv troupe. Paige inherited the bug from her mother, and she began acting at the age three in community theaters in Nashville, Tennessee—where she was born and raised. Paige is honored to be a part of this talented cast.
Kate Haymond as Sissy:
Kate is delighted to be in her second show with the Off Broadway Theatre!  Kate was previously seen in the OBT production of The Littlest Mermaid in the role of Guppy.  She has also been seen in a number of productions at the Draper Historic Theater, including The Lion King Jr. (Zazu), Oliver!, Once on this Island Jr., Peter Pan Jr., and Annie.  Kate is a 5th grader at Peruvian Park Elementary and loves reading, dance, friends, and puppies, and is obsessed with all things Harry Potter!
William Hunt as Alfus Bumblebore:
William is excited to return to Dogwarts and the OBT! In his free time he enjoys pickleball, spending time with friends and family, and exploring new locations. He loves to sing and is also a licensed therapist with Red Rocks Massage.
Tonya Huso as A.K. Lawlings:
Tonya is very excited to be performing again with the Off Broadway Theatre. She was last seen on the OBT stage as a Sintrooper in Star Ward, back in 2019. When not on stage she can be found teaching the best fourth graders around! She thanks her family and friends for their continued support through the years. She especially thanks her husband, Nels, for always supporting her dreams. 
Eric R. Jensen as Dracula:
This makes 27 years that Eric has been putting on white makeup, pointed ears, and vampire fangs here at the Off Broadway Theatre. Halloween is Eric's favorite time of the year, because he gets to scare the kids in the neighborhood or here at the OBT!  Every time he dons the Cape, people remark on what a unique take he has on the bloodsucking Count—the most improbable, bumbling, horrific monster you'll ever see. He also performs here in Laughing Stock Improv on Saturday nights at 10.  Eric thanks his loving wife, Sandy, and son, Austinn, for their patience. 
Kendra Jones as Narce:
This is Kendra's eighth play with OBT. She's really enjoyed working with such a wonderful cast to make an infectious and hilarious play come to life. Acting has been a passion of hers since she was 9 years old. She thanks her family and friends for all their support. She hopes everyone can enjoy this play as much as she has!
Cameron Liddle as Henry Botter:
Cameron Liddle is very excited to be part of this production. Cameron is 15 years old and is attending Skyline High School. Some of the productions he has performed in are Charlie and the Chocolate Factory and Frozen. He thanks his parents for letting him pursue his passion and all those involved in the production for making this experience possible.
Aimee McPhie as Professor Hellachik:
Aimee is so excited to be part of her first OBT Dracula show. She got her start with the OBT in 2019, when she appeared in It's a Wond'rous Life. Since then, she has continued working with the theater on various levels. In her spare time, you will find Aimee working on improving her musical and singing skills, writing her first song, going to karaoke, doing voice-overs with No Budget Arts and Cartoons, writing her first book, and working on her Break Free podcast with her sister. When she is not doing these things, there's no other place she'd rather be than on the stage in an OBT production.
Tyler Newton as Snako Mouthoff:
Tyler is excited to join the OBT family for his first show with the company. He has not been on stage since high school and is stoked to get the chance to act again after a seven-year hiatus. Tyler thanks his lovely wife, Rilee, for her unwavering support. He also thanks all others deserving of a thanks. Thanks!
Nikki North as Professor McGonandull:
Nikki has been involved in the performing arts for many years—acting, singing, directing, and even performing opera. She was the musical director for Phantom of the OBT (2021), but this is her first time on stage with Off Broadway Theatre, and she loves acting in a parody! Even more, she is a giant Potterphile and can't wait to bring some magic to you!
Audrey Self as Narce:
Audrey is so happy to be a part of this show! This is her first time performing with OBT. She loves theater and really has a passion for it. Besides acting, she likes to paint and spend time with her friends. Some of her favorite productions she has previously done are Miscast, Broadway Family Favorites and Babes in Toyland!
Boston Smith as Don Sneezly:
After performing as Crabsworth in The Littlest Mermaid and as Uncle Henry/Tree/Wizard in The Wicked Wizard of Ahhs, Boston is ready to wreak havoc in his third OBT show. In 2020, Boston graduated from Snow College with an AS in theatre. There he performed as Mr. Collins in Pride and Prejudice, Elbow in Measure for Measure, and Fred in A Christmas Carol. When he's not performing, he loves to write, sing, conquer Russia, and make people laugh in the hopes of making this world a little better. Boston has had a blast working on this production with such a talented cast and creative team and he hopes you enjoy it. Follow him on Twitter at @bostonianposts
Roman Southwick as Snako Mouthoff:
It's Roman's fifth show with the OBT! He was last seen in OBT's The Wicked Wizard of Ahhs. His favorite place (next to Disneyland) is the theater. He's spent more than half of his life performing in shows, and he loves it dearly. He loves his fellow cast members and thinks of them as family. When he's not at the theater you can find him in the ballet studio, on a horse, playing piano or cello, riding 4-wheelers, or watching Disney movies.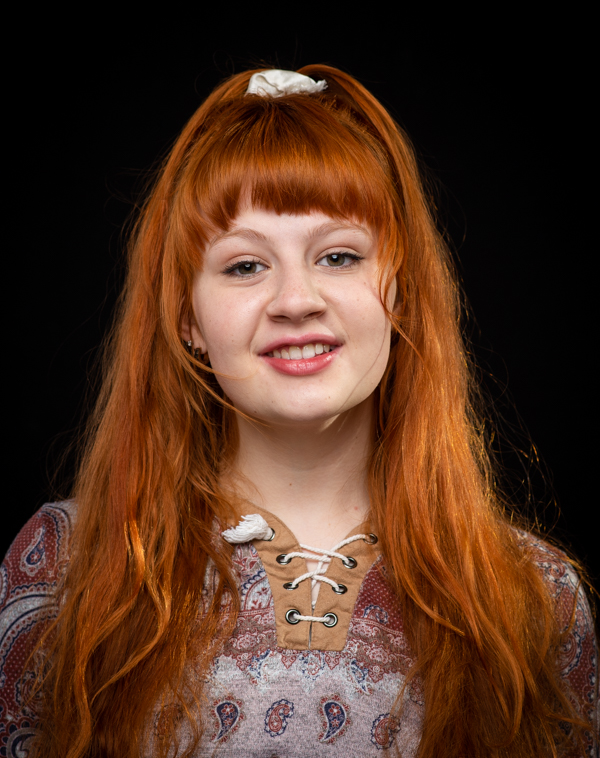 Sasha Southwich as Chow Bella Lee:
Sasha is excited to be in another OBT show! She loves theater and can't wait to get to rehearsals each night. She knows almost every song from every musical on Broadway, and with a little luck she'll be there with her name in lights singing them, too! Sasha was last seen in OBT's The Wicked Wizard of Ahhs. She hopes you enjoy the show!
Tanya Walton as Professor McGonandull:
Tanya is so ecstatic to be back at the OBT after a four-year hiatus. She has done many shows with the company, but Halloween shows have always been her favorite. A lot of heart goes into OBT shows, and this one is no exception! Acting is Tanya's passion, so big thanks to husband Joe and daughter Grace for letting her out to play!
Sadie Wendels as Ne'ergud Jones: 
Sadie is so excited to be playing Ne'ergud Jones (aka the constantly annoying, infatuated student). Sadie loves performing with OBT! She has recently been seen in OBT's A Muffets Christmas Carol and The Littlest Mermaid. Outside of performing she can be seen reading, playing piano, being with friends/family, playing sports, and dancing. She enjoys being with this awesome cast, and she hopes you'll enjoy the show!
Katie Whitely as Professor Hellachik:
Katie Whiteley is so excited to be back with OBT. She loves working with OBT because it is like a box of chocolates: you never know what you're going to get. You may have seen her as Usana in The Littlest Mermaid (OBT), Silly Girl in Beauty and the Beast (RAC), and a few others. She also thanks her amazing family for supporting her.
Audrey Lord – Sound & Light Tech
Audrey is so happy to be part of this show! This is her first time teching for The Off Broadway Theatre, and she is enjoying every minute of it. Audrey loves theater and really has a passion for it. Besides acting she also likes to paint and spend time with her friends. Some of her favorite productions she has previously done are Wizard Of Oz, Miscast, Broadway Family Favorites, and Babes in Toyland.
Matilda Black – Sound and Light Tech
Matilda, to put it mildly, is a woman with many hobbies. She designs tabletop games, plays the piano, writes short stories, and has a deep fascination with science and nature. But she dreams of becoming a professional theatrical lighting designer. This will be Matilda's 11th show as a technician and she hopes to do many more
Erin Orr – Stage Manager
Erin is really excited to be a part of Dracula vs. Henry Botter. She has been with the OBT for 11 years, doing just about everything there is to do: stage management, lighting/sound tech, acting, etc. She thanks Eric and Sandy Jensen for giving her the chance to be here and continuing to have faith and trust in her for all these years! She also extends a massive "Thank You" to her best friend!
Volunteer!
Want to volunteer? We need you! Be a part of the OBT family!
Volunteer opportunities include:
Box office services
Costume design
Concessions help
Marketing
Set design/building
Stage managers
Sound and light techs
Ushers
Send an email to obt1994@hotmail.com
BOARD OF TRUSTEES
Bing Fang, trustee and chair
Janet Gonzalez, trustee, secretary, and vice chair
Jim Morgan, trustee and past chair
Jeff Driggs, trustee
Ben Eddington, trustee
Liz Halloran, trustee
Sandy Hubble Jensen, trustee
Clarence Strohn, trustee
OFFICERS
Eric R. Jensen, Co-Founder / Artistic & Technical Director
Sandy Hubble Jensen, Co-Founder / Executive Director
Bing Fang, Chief Financial Officer
Kevin Hicks, Treasurer
Kelly Wideman, Marketing Director
Megan Leonard, Volunteer Coordinator
CONSULTANTS
Aaron Bellis, consultant
Nic Brown, consultant
Christopher Cheeney, consultant
Austinn Jensen, consultant
Scott Hansen, consultant
Jeff Hunsaker, consultant
Daniel Gillette, consultat
ERIC R. AND SANDY HUBBLE JENSEN'S BIOS

Eric and Sandy are co-founders of the Off Broadway Theatre and Laughing Stock improv comedy troupe. They have worked closely over the past 26 years, dedicating much of their time to building and growing the Off Broadway Theatre. They have been married for 30 years and have one son, Austinn, who has grown up acting in numerous OBT and other productions.
Eric, the artistic and technical director for the OBT, grew up in Murray, Utah. He received his bachelor's degree in theater arts at the University of Utah and his master's degree in secondary education at the University of Phoenix. As executive producer and lead playwright, director, set designer, costumer, actor, and improviser, he guides many aspiring talents at the OBT. He teaches improv classes while mentoring up-and-coming playwrights, directors, stage managers, and set designers. His acting, writing, and directing experience has also been featured at Desert Star, Centre Point Legacy, Hale (both Orem and West Valley), and Egyptian theaters. He has taught and performed high school workshops and elementary school assemblies, as well as for some after school programs. Eric also teaches K – 6 as a fine arts specialist  in the Davis School District, inspiring children to love theatre, music, dance, and all things art. Under Eric's leadership, OBT won the Best Community Theatre award from the Utah Theatre Association in 2000, recognizing the quality of the theatre and Eric's work with high schools and the community.
Sandy serves as the executive director of the theatre, as well as executive producer, box office manager, and social media specialist, with more than 30 years of experience in small business management. She has an extensive acting background, including the OBT, Hale Centre Theatre WVC, The Grand Theatre, Sundance Theatre, Salt Lake Acting Company, Pages Lane, and Stage Right Theater. Sandy continues to work tirelessly to grow volunteer opportunities at the OBT. She was born in Vietnam and has a bachelor's degree in elementary education, with endorsements in ESL, STEM, and Gifted. She teaches 1st grade in the Davis School District. She has earned two Presidential Awards for Volunteering and has been recognized in Who's Who of America.   
The Off Broadway Theatre has been said to have a feel of "family," and that's because it is. Eric and Sandy's mission has always been to provide a place where people can come together and make laughter ring true and provide a safe place to hone skills and develop friendships. Through the art of live performances, the theatre has reached many new friends, and its charitable outreach program has provided wonderful opportunities to serve our community. 
Eric and Sandy also co-founded Laughing Stock Improv and have performed together on the OBT stage as well as at corporate and  school events. They are proud to have such a long-running improv show with some amazingly talented improvisers who have been with the company for a long time.
Thank you for your many years of support and patronage at the Salt Lake downtown location, and for following us here to Draper. Please continue to donate to help us forge another 25+ years of spreading laughter in Utah! Go to www.theOBT.org to donate today.