Eric Jensen's Charlie's Aunt
JAN 19th – FEB 24th
One of the funniest plays ever shown at the OBT, this production features mistaken identities, young lovers in need of chaperones, and one ugly guy in a dress. Two young college boys want to court two young girls; but, without a chaperone, they need to enlist the help of their nerdy friend Babs, who impersonates an old widow so well, everyone falls in love with her/ him. Confused? You won't be when you see this hilarious, side-splitting production. OBT's hyper-charged take on this classic is the perfect way to warm up your winter.
The Little Miamaid
MAR 9th – APR 14th
Muriel, a sweet little Miamaid, finds herself lost on a girls' outing while visiting the Great Salt Lake. Rescued by a group of mountain mermaids, she is magically transformed into one of their kind. Muriel can only change back when a young, handsome Eagle Scout of her dreams returns her love. There is one catch, however—she must not use her beautiful voice, but only body language (while still being an appropriate young lady, of course). What a conundrum! Will she win her true love? Bring the family and find out!
Jurassic Park City
APR 27th – JUN 2nd
They're not really going to put dinosaurs on the stage, are they? Oh yes we are! One of the most requested shows ever done here at the OBT tells the story of a billionaire who decides to establish a living dinosaur exhibit just outside of Park City. But this worries a local movie celebrity who is concerned about the potential effect it could have on the nearby film festival. His efforts to sabotage the park result in a hilarious outcome. Bring your cameras—you and your kids will absolutely love the dinosaurs!
Doctor U
JUN 15th – JUL 21st
Do you love the Dr Who universe? Do you love strange alien-like creatures? Time-traveling telephone booths? Funny plays that feature Ben Franklin? Uh…we'll explain that one later. This laughable story features a time-traveling doctor who meets strange beings and outwits them at every turn to hilarious effects. Exciting characters, great music, and awe-inspiring costumes. What more could you want? This gut-busting show will have you and your family rolling in the aisles. Get your tickets early—you don't want to be TARDY!
H.M.S. Pinafore
AUG 3rd – SEP 8th
That's right, the OBT is going back to the sea. In the wake (see what we did there?) of the OBT's rambunctious production Pirates of Penzance, we have decided to bring back another Gilbert and Sullivan classic in our wacky style. This comic operetta deals with the struggles between social classes when the captain of the Pinafore, who intends for his daughter to marry a man of high station, discovers she loves a lowly sailor. The story may be familiar to the world over, but you'll never laugh as hard as you will at this portrayal!
Dracula vs. Henry Botter
SEP 28th – NOV 3rd
If you're a Harry Potter fan, get ready to be mesmerized! If you're a Dracula fan, be prepared to be petrified. If you're an OBT fan, get set to laugh your glasses off! Henry Botter and his classmates have a new teacher—one with evil intentions. When students mysteriously wind up dead and drained of blood, it's up to Henry to solve the crime. Featuring great visual effects, magical songs, and Salt Lake's most eccentric vampire (you might even call him a "fantastic beast"), it's a frightfully-funny Halloween horror for the whole family.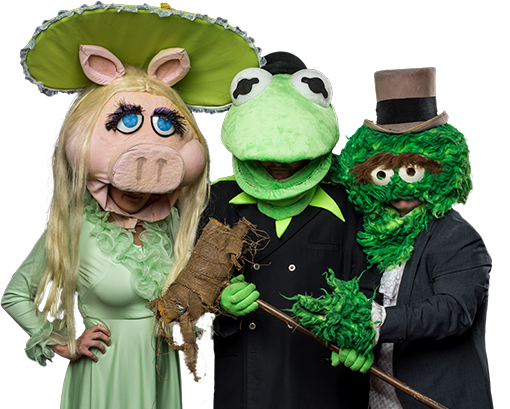 Muffet's Christmas Carol
NOV 16th – DEC 29th
This timeless story is presented by Little Miss Muffet and features life-size puppets who walk, talk, and present a classic story of redemption, forgiveness, and super-scary ghosts. The miserly Scrooge endures several spectral visitations that remind him of the errors and evil ways of his lonely life. This lighthearted comedy will get you into the Christmas spirit while making you laugh out loud in the process. Come enjoy this time-honored classic with the entire family, you dickens!